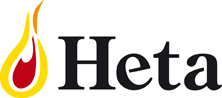 The Heta Scanline Stove range features not only superb minimalist style associated with leading Danish design and manufacture, but also the very latest clean burn combustion that ensures minimum pollution plus maximum heating effect. The range of stoves available is comprehensive and wide ranging encompassing outputs from 4kW right up to 16kW with multiple colour options, soapstone or sandstone cladding, freestanding, pedestal, inset, side window, modern boiler version or slow overnight heat dissipating models. Whatever your requirements, whatever your taste, if you are looking for a modern and efficient wood burning heating appliance that creates a wonderful focus in your room then Heta has it covered.
All new stoves produced by Heta now incorporate fresh air supply so that these stoves are equally at home whether placed in a barn conversion, a state of the art modern home or large space.
Scanline 6 is the smallest model with 4.5kW output, minimalist lines, full convection heat output, and a class leading 84% efficiency. Load a 300mm log and enjoy long and controlled burn times whilst being mesmerised by the lovely flame pattern.
The Scanline 7 is a small upright stove offering 4.5kW, originally designed for Danish log cabins but equally at home in the UK market. Available in multiple model variants which includes freestanding, pedestal, and wall hanging versions but with the option of choosing soapstone or sandstone cladding to make it truly flexible and individual. A full convection stove and with fresh air supply.
The original Scanline 500 series offering superb wood burning performance. A modern contemporary stove with one of the highest efficiencies available from a wood burning stove. Available in multiple model variants as well as one of the few modern stoves available with a water heat exchanger to give a maximum of 4-5KW of useful heat output to water.
2011/12 has seen the birth of the Scanline 800 series which incorporates a bewildering range of model variants. An oval shape brings this stove bang up to date with its modern look but choose through a list of options which includes freestanding, pedestal, ceramic, soapstone, sandstone cladding as well as enamel colour options. Add to this, the choice of side windows for maximum view of the fire, a top oven which allows the stove to bake bread or roast a chicken and the option of thermastones to allow the stove to produce heat long after the fire has gone out gives this range huge flexibility.
This year has seen the SL100 Pedestal and Panorama inset range introduced. These models feature beautiful engineering with a modern full black bordered door window fitted to the stove. Incorporating fresh air supply, these modern wood burning stoves will truly make a bold design statement in any room setting where high heat outputs yet a classy designer look is required.
Heta will continue to introduce beautifully engineered, high quality, modern and forward thinking stoves that meet the latest eco-friendly and clean burning stove requirements. Trust in Heta....a brand that is striving to deliver perfection that has been producing stoves for over 25 years.
Click on the images or the links to view more information about each of the models available.